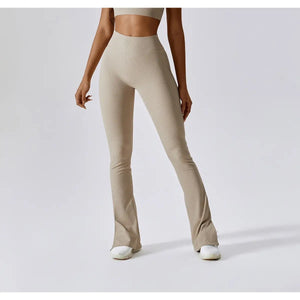 Introducing our Ribbed Flare Yoga Pants, designed to elevate your yoga practice and everyday wardrobe. Made from a high-quality, stretchy fabric that moves with your body, these pants offer unparalleled comfort and flexibility.
The ribbed texture not only adds a stylish touch but also provides a subtle compression effect that helps support your muscles during your yoga poses. The flared legs create a flattering silhouette that elongates your legs and offers a wide range of motion for all your movements.
These yoga pants are perfect for any level of yogi, from beginner to advanced. They can also be worn for other activities such as running, gym workouts, or just lounging around at home.
Featuring a high-rise waistband, these pants provide additional support and coverage for your midsection. The waistband can be folded down for a low-rise option if preferred. The pants also come in a variety of sizes to fit any body shape or type.